Loading
Split-end remedy and color protection for healthy hair



Miracle superfood
Organic Ghee Oil
Ghee is a popular superfood rich in Vitamins A, E and antioxidants. Through a collaborative development with GHEE EASY - a well-known producer of pure, organic ghee from the Netherlands - Miracle You Damage Repair is formulated with Cosmetic Grade and Certified Organic Ghee to provide intensive nourishment for the hair, which restores dry, frizzy hair back to health!
Miracle Cuticle Coat
Polycare®

Split-ends happen because of excessive bleaching, dyeing and heat-styling. Miracle You Damage Repair fixes split-ends by sealing them with Polycare® that's naturally derived from Guar gum. It's a hair-repair active that seals and binds split-ends together, which smoothens damaged, frizzy hair for locks that are more manageable and resistant to damage with continued usage!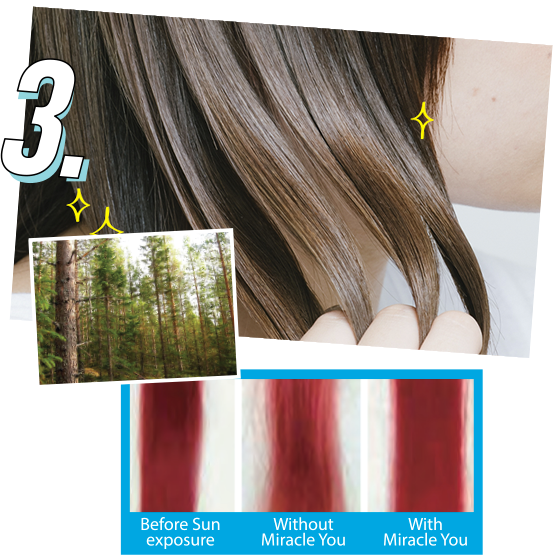 Miracle color protect
Borealine®

Borealine® is an antioxidant extracted from trees in Canada's Boreal Forest that are resilient even in harsh climates. Rich in Resveratrol (antioxidant), Borealine® in Miracle You Damage Repair creates a protective barrier to defend your tresses from free-radicals to prevent colour fading of dyed hair from UV exposure and frequent washing!

The regimen for a miracle you
Best results can be seen with the usage of the full MIRACLE YOU DAMAGE REPAIR regimen, which will provide increased protection of hair against colour fading, breakage and split-ends.
MIRACLE YOU DAMAGE REPAIR
SHAMPOO & TREATMENT
450ml | $18.90
The shampoo helps to gently deep cleanse the scalp with no sulphates, silicones and parabens, and the treatment conditions the hair and seals hair cuticles to retain moisture.
MIRACLE YOU DAMAGE REPAIR
HAIR MASK
150g | $19.90
The hair mask deeply repairs hair damage. It can be used as an alternative to treatment/ conditioner. The hair mask intensively moisturises and provides your hair with much-needed nutrients to strengthen and repair its damage.
It can be used in addition to your conditioner, or as a conditioner by itself.
MIRACLE YOU DAMAGE REPAIR
REPAIR HAIR SERUM
150g | $20.90
The leave-in serum seals the deal as the final and most important step to repairing and protecting your tresses. It also works as a heat protector prior to blow-drying and heat styling, making it an essential for ladies who use heat tools regularly.